What's New with Caridad™?
JUST ONE NIGHT New Adult Erotic Romance
I'm really excited to say that I've released my #NALit #erotic #romance, Just One Night! Please take a moment to check it out and add it to your Goodreads bookshelf. It's specially priced at .99 for a limited time.
Here's a little teaser for it!
He has just one night to prove to her that anything is possible…
Jason Hart, Jase to his friends, has just graduated college and earned his commission as a Second Lieutenant in the Marine Corps. It's the night of the graduation party and she'll be there. His best friend's slightly older sister, Nickie. Nickie is the only woman he's really wanted for a long time. He has just one night to make it happen.
She has just one night before the man of her dreams leaves, maybe forever, but can she find the courage to take a chance…
Nicole de Salvo has been in love – and lust – for her little brother's best friend for years. For years she's watched from afar and done nothing about her attraction for Jason Hart only now their time together is almost at an end. On their last night together will she find the courage to do something about her feelings, or will she live with regret for the rest of her life?
Amazon: http://bit.ly/AMZJustOneNight
Print Version: http://bit.ly/PrintJustOneNight
Nook: http://bit.ly/BNJustOneNight
Kobo: http://bit.ly/KOBOJustOneNight
Itunes: http://bit.ly/ITJustOneNight
All Romance: http://bit.ly/AreJustOneNight
GooglePlay: Coming soon
Goodreads: http://bit.ly/GRJustOneNight
VAMPIRE REBORN Novella Release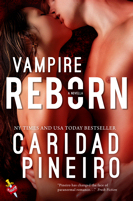 VAMPIRE REBORN is a new novella featuring Diana and Ryder. The story takes place after DIE FOR LOVE and explores what's happening in their new lives. It is a prequel to my summer release, FIGHT FOR LOVE. If you haven't read DIE FOR LOVE, don't worry. This novella stands alone, but I guarantee you that you will miss and action-packed and emotional story if you don't check out DIE FOR LOVE.
Here's a teaser for VAMPIRE REBORN (WARNING **SPOILERS FOR DIE FOR LOVE**):
A life alone . . .
For nearly two centuries, vampire Ryder Latimer had lived alone, uncomfortable in the vampire world and unloved in the human world. Ryder had never dared hope that he'd find love in his endless existence.
Brought together . . .
Fate brought FBI Agent Diana Reyes into Ryder's world and in the five years since they met, they've battled long and hard for a life together. With Ryder's love, Diana has climbed out of a dark abyss that had kept her prisoner for far too long.
Please take a moment to check out the earlier 2013 releases in The Calling Reborn Vampire novel series:
FOR LOVE OR VENGEANCE #1 in the REBORN series available September 23.
TO LOVE AND SERVE #2 in the REBORN series available on October 28.
BORN TO LOVE #3 in the REBORN series available on November 25.
DIE FOR LOVE #4 in the REBORN series available on December 30.
Dangerous Dozen Boxed Set
The Dangerous Dozen Romantic Suspense Boxed Set was an awesome way for me to explore a darker story. The boxed set is specially priced at .99 cents for a limited time.
TO CATCH HER MAN, my contribution to the set, is the story of investigative reporter Sylvia Amenabar who must decide between friendship, love and discovering the truth behind a cop's murder.
The hero is undercover detective Carlos Ramirez who nearly lost his life protecting Sylvia, but he knows it'll be a fight to reach her heart.
It's up to Sylvia and Carlos to decide if they learn to trust one another and find out the truth about a failed assignment that nearly killed Carlos or if they will let the secrets of the past and family issues cost them the things they hold most dear.
LUCKY 7 BAD BOYS Contemporary Romances
Thank you for all the love you've been showing to our Lucky 7 Bad Boys Contemporary Romance Boxed Set! It is much appreciated. Thanks to your help, you've made the set a NY Times and USA Today bestseller!
The Perfect Mix, the story in the Lucky 7 Bad Boys Contemporary Romance Boxed Set is a sweet and sexy story. But you all know I have a dark side – Mwah ha ha!
Thank you all for your support and friendship. It means the world to me!