What's New with Caridad™?
TALL, DARK & PARANORMAL Box Set
For only $0.99 (limited time pricing) you can purchase 10 scorching tales featuring the hottest bad-boy alpha heroes you can imagine!
The Tall, Dark and Paranormal bundle features Crescent Moon by Lori Handeland, Forever Freed by Laura Kaye, Sins of the Flesh by Caridad Pineiro, Spell Bound by Stephanie Julian, Spellbound by Opal Carew, Haunting a Cowboy by Randi Alexander, Huntress for Hire by Terry Spear, Dead Sexy by Paige Tyler, Asmodeus by Sara Humphreys and Beauty and the Best by Judi Fennell.
Now available from any of these online retailers:
Amazon: http://bit.ly/AMZTDP
All Romance Ebooks: http://bit.ly/1p33Gdu
B&N: http://bit.ly/1peDUTz
Itunes: http://bit.ly/ITTDP
Kobo: http://bit.ly/KOBOTDP
Smashwords: http://bit.ly/SWTDP
Goodreads: http://bit.ly/GdReadTDP
TAKE A CHANCE New Adult Erotic Romance Series
I'm really excited about your response to my #NALit #erotic #romance, JUST ONE NIGHT! Did I mention that the story has a sexy Marine hero? I guess that's why you made JUST ONE NIGHT a Top 30 Military Romance! THANK YOU!
The second novella in the series, ONE SPECIAL NIGHT, is about Tommy de Salvo, Jase's best friend and Nickie's younger brother, and Navy Corpsman Jasmine Reyes. Both Tommy and Jasmine have wounds that need healing. Their one special night will start that healing process and bring the promise of many special nights together. Here's a little teaser for ONE SPECIAL NIGHT!
He never expected that on one special night his life would change forever . . .
It's been nearly six months since Tommy de Salvo's fiancée cheated and left him in the midst of wedding preparations because up-and-coming businessman Tommy was all work and no play. The last thing Tommy wants or needs is to be attracted to another woman who won't be around for too long. A woman just like Navy Corpsman Jasmine Reyes. She's rough, tough, and determined to go it alone, but Tommy knows that if he passes up this opportunity, he may regret it more than the loss of his fiancée . . .
She has ignored her needs for too long until now . . .
Jasmine "Doc" Reyes is both emotionally and physically scarred after her tour of duty. Wounded in battle, all she can think about is rebuilding her life and continuing with the career that she's dreamed about since she was a young child. She has no time for rich sexy men who've never had a care in the world and wouldn't understand her determination. But Tommy's charm is seductive and she knows that she has to explore the attraction, even if it's only for this one special night . . .
Amazon: http://bit.ly/OSNAMZN
Nook: http://bit.ly/OSNBN
Kobo: http://bit.ly/OSNKobo
IBooks: https://itunes.apple.com/us/book/id906951295
All Romance: http://bit.ly/OSNAReCafe
GooglePlay: Coming soon
Goodreads: http://bit.ly/OSNGoodReads
VAMPIRE REBORN Novella Release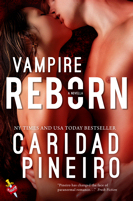 VAMPIRE REBORN is a new novella featuring Diana and Ryder. The story takes place after DIE FOR LOVE and explores what's happening in their new lives. It is a prequel to my summer release, FIGHT FOR LOVE. If you haven't read DIE FOR LOVE, don't worry. This novella stands alone, but I guarantee you that you will miss and action-packed and emotional story if you don't check out DIE FOR LOVE.
Here's a teaser for VAMPIRE REBORN (WARNING **SPOILERS FOR DIE FOR LOVE**):
A life alone . . .
For nearly two centuries, vampire Ryder Latimer had lived alone, uncomfortable in the vampire world and unloved in the human world. Ryder had never dared hope that he'd find love in his endless existence.
Brought together . . .
Fate brought FBI Agent Diana Reyes into Ryder's world and in the five years since they met, they've battled long and hard for a life together. With Ryder's love, Diana has climbed out of a dark abyss that had kept her prisoner for far too long.
Please take a moment to check out the earlier 2013 releases in The Calling Reborn Vampire novel series:
FOR LOVE OR VENGEANCE #1 in the REBORN series available September 23.
TO LOVE AND SERVE #2 in the REBORN series available on October 28.
BORN TO LOVE #3 in the REBORN series available on November 25.
DIE FOR LOVE #4 in the REBORN series available on December 30.
Thank you all for your support and friendship. It means the world to me!